Product Development

Achievement of product development that caters for all kinds of needs including performance, quality, cost, and weight reduction.
Product Design
Somic Ishikawa makes all the goods specific for each model of car makers.

Sizes can differ by just a few millimeters. Need of the product for torque, shape, and angle vary from time to time. Somic Ishikawa's product design engineering takes up these diverse needs and turns them into actual products. There is no way to utilize greatest machines and equipment 100% in the absence of superior product design capabilities.
Product Testing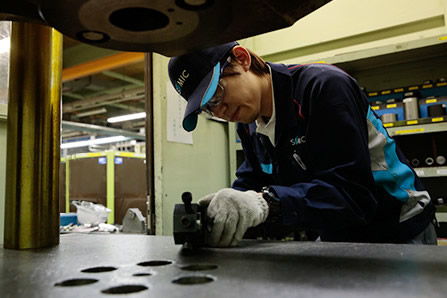 To ensure the safety of end users, product testing of critical safety parts under severe conditions is one the most important items. While many steps are conducted with the use of machines, product testing still is with human eyes, and durability tests are implemented.

Though many car-part makers perform in-house product testing, Somic Ishikawa has a different testing of our own. We have a broad range of business transactions in and out of Japan and own many original testing equipment. Required testing conditions vary depending on car maker, car model, etc. Somic Ishikawa can deal with all of them, as we possess the testing equipment, as well as vast database permitting us to handle all kinds of variations.

Somic Ishikawa maintains a strong sense of duty when it comes to keeping the safety of drivers assuming all possible troubles they could face while conducting the product test.