Philosophies/Guiding Principles
Philosophies
Value importance on human relationship, Put our best efforts into contributing to society and Create a company that we can be proud of."
We build mutual trust by putting the human relationship first and working for others. Human relationship leads to the relationship of companies and then spreads in the society.
We will strive to play our roles with best of our efforts focusing on Somic vision without running away from difficulties and without giving up.
We want to become grown-ups in the company through continuous efforts.
Based on a valuable human relationship and persistent efforts, we should be able to provide products and services useful for customers and communities, and in turn, to become the company to receive global respects in the next 100 years.
Guiding Principles
1. Be compassionate with smiles on the face
Our acts should be based on consideration to the others always- being compassionate. We will remain sympathetic at all times when dealing with our employees, as well as with anyone else involved with Somic. Smiles are the most important in people to people relationship. Others smile when you smile with your open heart.
Compassion and smiles when linked together create person to person relationship providing a foundation of mutual trust. 100 years of Somic history is one of the human relationships, and we should cherish this value in future too.
2. Have "Challenging Spirit" and do one's best.
"Challenging Spirit" moves us a step forward towards our personal goals. We should believe in potentials in man and do our best disregard of results without giving up hopes. When each employee of Somic continues to give his/her best in a respective role, then he/she will achieve human development while Somic will grow as a company. The "challenging spirit" will be the new driving force for the next 100 years.
3. Share goals and achieve them together.
We will always be aware what our goals are shared them among us.
To achieve the goals, we must work together and see things through to the end, while best-utilizing high points of members. In our shared thought for Somic, we will be able to shape the next 100 years.
Yume no ki (The Dream Tree)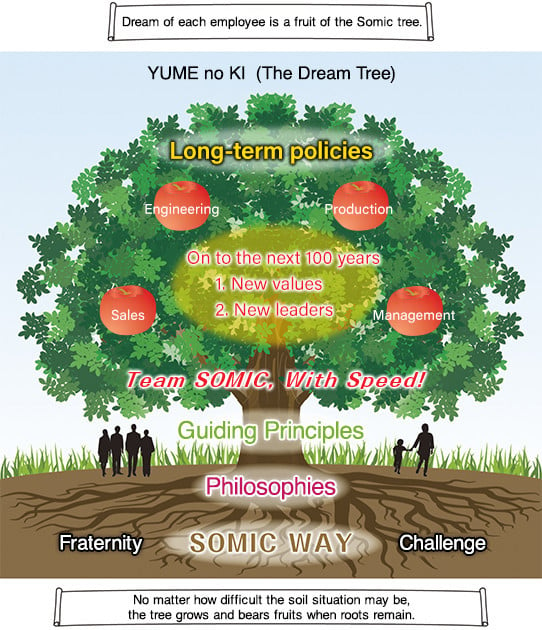 The dream tree symbolizes the vision of Somic Ishikawa's
Gour elements, soil, roots, a trunk, and fruits make up the dream tree. The tree loaded with fruits is what we dream of "the top global ball joint manufacturer. "

The dream tree springs from the soil that is, the foundation of Somic Ishikawa "Somic Way," a corporate culture that our predecessors cultivated. "Somic Way" is symbolized by spirits of "Friendship" and "Challenge."

New corporate vision is rooted deeply in the long-cultivated soil.
When employees put their efforts together in line with guiding principles, the trunk of the company grows bigger and bears four fruits.

What do we define "the global top "? The dream tree describes it as a perpetual realization of the cooperate vision in a metaphor of four fruits grown on the tree and not just a top position in market share and sales.

There will be more people gather together under Somic when our dream tree reaches its maturity.
Fruits/Vision

【Engineering】Challenge the world with speed through relentless development efforts of original technology
【Production】Achieve a complete change in the workplace through on-site wisdom of the shop floor and innovative production engineering
【Sales】Value the mutual trust with customers to drive the sales and profits
【Management】Create an environment where corporate leaders emerge successively
A trunk/Guiding Principles

Be compassionate with smiles on the face
Have "Challenging Spirit" and do one's best.
Share goals and achieve them together.
Roots/Philosophies

Value importance on human relationship, Put our best efforts into contributing to society and Create a company that we can be proud of."
Soil/SOMIC WAY

Fraternity
Challenge