Dampers

Gentle movement for safety
The second Pillar (products) to follow Ball joints in Somic product portfolio
Damper function?
Somic Ishikawa as a dedicated car parts maker poured all of the developmental and technological experiences into Somic dampers. They suppress sudden movements and alleviate shocks. For instance, the car seat with a damper rises slowly from full reclining to upright position when a seat release lever is activated.
In the year 2000, Somic started damper business in full swing. Initial products were Viscous-resistant type dampers that utilize the viscosity of high- oil- viscosity to generate torque and pressure-resistant type dampers that use oil compression to generate torque. At the time, our dampers garnered attention for being able to generate high torque in compact size. With these types of dampers, the folding speed of a seat is subject to the load or mass applied to the damper.
A development of "Load Responsive Dampers" was groundbreaking where the seating velocity remains constant almost disregard of the force or mass applied to the damper. The development of Load Responsive Dampers took mere one year to meet the need of a car maker.
Development of the world's first resigns type damper followed the Load Responsive Damper through continuous R &D activities. Today, the damper is the 2nd biggest product in Somic product portfolio, and Shinmiyakoda plant that was opened in 2015 is dedicated to damper business.
Viscous-Resistant Type Dampers
Torque generation with the use of oil viscosity.
Features
No restrictions on operating angles
Superior responsiveness (no free play)
Slim and thin.
Pressure-Resistant Type Dampers
Torque generation with the use of oil compression.
Features
Higher torque generation in smaller shape than viscous-resistant type dampers
Provision of variances to the folding speed of the seat
Load Responsive Dampers
Torque generation that responds to the input load utilizing a unique mechanism..
Features:
Keeps constant speed disregard of input load to the damper.
We have also successfully developed the world's first resin type damper, and are currently working to make it lighter.
Applications of damper
Dampers are currently used mainly in various places on luxury cars. As costs have come down in recent years, economy cars also use dampers.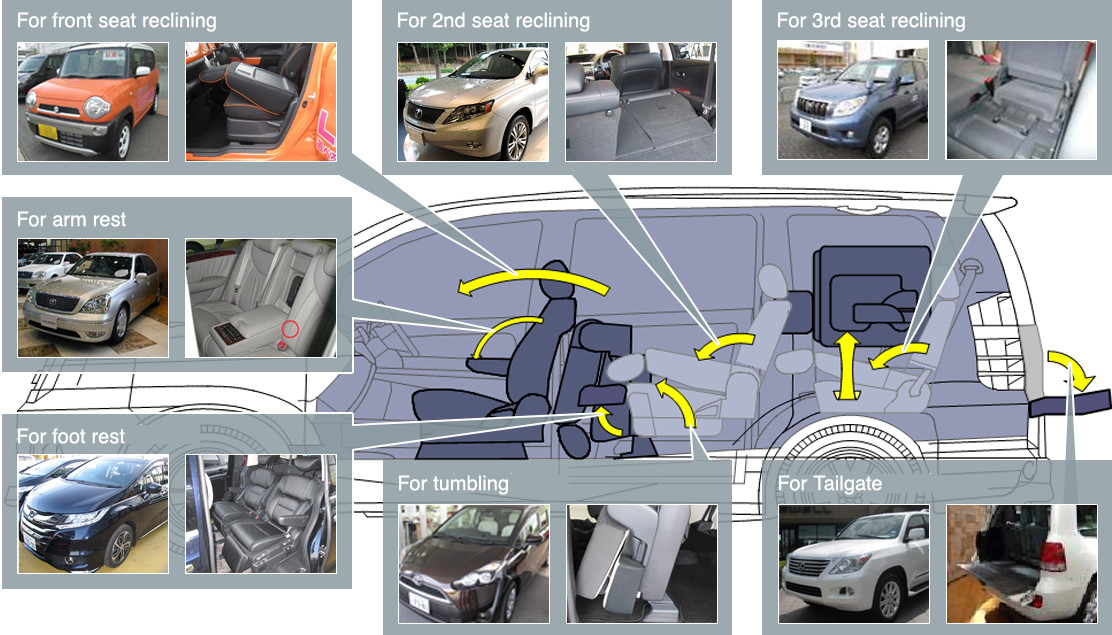 Damper Effects
Dampers generate soft and gentle movements. They create comfortable and relaxed car interiors.

Other Damper Products
Apart from car seats, dampers are also used in everyday life. Somic Ishikawa is actively researching and developing product application in various fields, and is looking for ways to commercialize them for other areas.
Writing disks
Elevating shelves in system kitchens
*For inquiries regarding the products above, please contact the precision equipment department of Fuji Latex Co., Ltd.
Damper Business Quality Management Policy
The damper business department has its own "Quality management Policy" directing the business. Damper business gained IATF16949:2016.
Damper Business Quality Management Policy
Deliver products that are fully satisfactory to global customers and become the best rotary damper maker in the world.

1. Carry out continuous Kaizen activities by all members and aim at further improvement in quality.
2. Carry out technological development focused on future customer' needs and make proposals of attractive new products.
3. Pursue systematic human resource development to implement the quality policy.

Set the quality targets based on three items above and reflect them on the damper business policy and implement them. The quality policy shall be reviewed periodically.
28 May,2020
Division Director,Damper Business Division